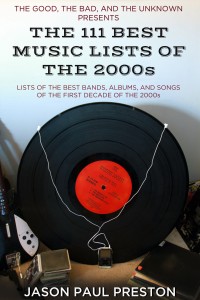 After years of compiling, and about 18 months of revisions I am proud to present my first novel...
The 111 Best Music Lists of the 2000s
The 60s had the Beatles. The 70s had Led Zeppelin. The 80s had Michael Jackson. The 90s had Nirvana. The 00s had...???? That depends on who you ask. Some may chant Eminem. Others might shout The White Stripes. While the rest may surprisingly vote for American Idol. Musically, the 00s were a schizophrenic digital playground, where control over music was taken out of the hands of music directors and was placed back in the hands of the individual. Music flourished on digital MP3 players, where rock lived next to rap next to electronic next to country next to classical...and so on. Every artist had an equal chance on our personal featured playlists, because of this, no one band or genre dominated. Musical exposure was limited. This book hopes to right the ship, to set the course and dig a little deeper than our MP3 players allowed us.
Taken from the website
The Good, The Bad, and The Unknown
, one of the premiere music blogs on the internet, come explore one of the most diverse musical decades yet. _________________________________________
"It's list-o-licious!" Chris Reid, Kid N' Play
"The 111 Best Music Lists reminds us that the 2000s gave us a lot more than boy bands and plastic pop" Jejuan Guillory,
Swoop Magazine
"An amazing resource of music." Steve Michaels, Executive Producer "Ring of Fire"
"His explanatory opinions are not only impressive but profoundly true. A perfect walk down memory lane." Cheryl Bogart, Music Management | Executive | A&R Consultant
"Who knew the 00's had so much great music? Jason Preston does!" Adam Fleischman, CEO - Umami Group
________________________________________
Available now for purchase: