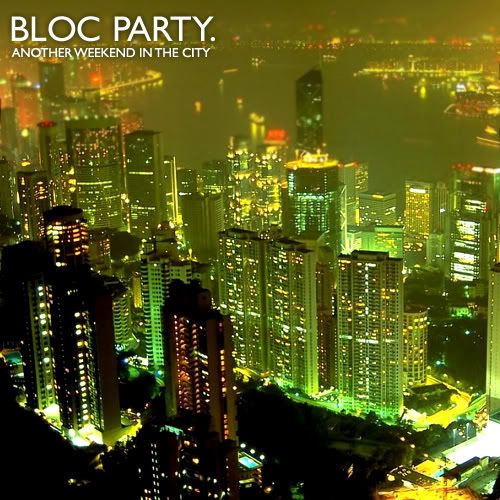 Bloc Party made a surprise release this week...digitally selling their new album,
Intimacy
, a full two months before the street date. Most media outlets are surprised by this turn...but this has become a rather common place event over the past couple of years (Radiohead, Nine Inch Nails). What no one is mentioning, is that this release is actually the second digital release by the band. The first release was
Another Weekend in the City
(named by and artwork by I Guess I'm Floating)..a companion album to last year's
A Weekend in the City
. Another Weekend In The City is a compilation of B-Sides and special edition tracks released alongside the release of A Weekend. The tracks come together to form a very strong cohesive onslaught in the style of Silent Alarm. For the casual fan, A Weekend was enough...coming with usually a couple random bonus tracks. But for the rabid fan, if you searched hard enough, you were rewarded with a second disc of equally strong songs. At the time, many bloggers were actually bigger fans of Another Weekend.
Now the setlist for the album has always been in dispute, but after a few listens to the various editions, this has been the song order I've found to work the best.

Here is Bloc Party - Another Weekend In the City
1. Version 2.0
4. Secrets
7. We Were Lovers
9. Atonement
11. Emma Kate's Accident
Please Buy Bloc Party's new album for instant download now....
Intimacy
. Support the artists, we have the power to shape the future of the industry. We want more of this...and less of the box store labels.