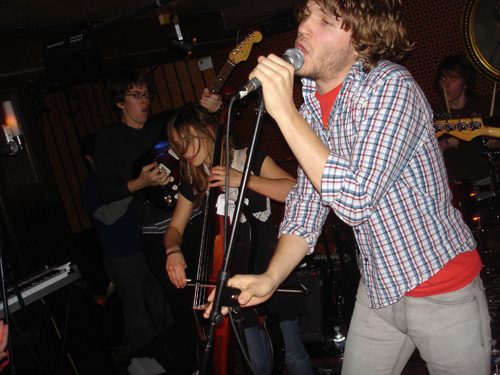 Yesterday's big news about The Smiths having their songs turned into a comic book, left me with mixed feelings. Of course, every time there is news about the Smiths, it's always a good day...but the more I thought about it, I became a little concerned. I know it's "based" on Smiths lyrics...so are these little short stories or is this going to be an ongoing epic about Super Morrissey: A mild mannered British lad with an affinity for crooning and inspiring Latin culture? But the Smiths aren't the only ones jumping on the comic book trend. The Hold Steady, Tom Morello, and Madonna all have comics in the works.
I feel the same about solo albums from band members as I do when I hear this comic news. I'm excited to hear any news about my favorite band...but am usually letdown when I actually sit down to listen. Mathieu Santos of Ra Ra Riot actually bucks the trend with a solid solo album. But he's the exception...not the rule. That applies to other solo albums even within his own band.
Here are the 11 Best Songs by Ra Ra Riot:
1.
Dying Is Fine
(The Rhumb Line)
2.
Boy
(The Orchard)
3.
Ghost Under Rocks
(The Rhumb Line)
4.
Too Dramatic
(The Orchard)
5.
Each Year
(The Rhumb Line)
6.
Shadowcasting
(The Orchard)
7.
Too Too Fast
(The Rhumb Line)
8.
Oh, La
(The Rhumb Line)
9.
Foolish
(The Orchard)
10.
Manner To Act
(Ra Ra Riot EP)
11.
St. Peter's Day Festival
(The Rhumb Line)
Buy Mathieu Santos new solo album,
Massachusetts 2010
, now!!