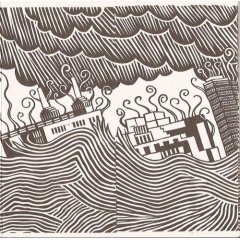 I don't get the whole Digital Music bullshit. My last three takedowns were all for posts where there was no music links. Seriously. The last takedown was from a bad review I gave of the last Dixie Chicks album....four years ago! Yes, I got a takedown letter for giving a bad review!! So let me get this straight...I can give away your product as long as I say something nice about it. No wonder your industry is crumbling.
One band who gets it is Radiohead. Thank God for Radiohead. I respect Radiohead so much, I'll buy anything they do just to support them. Even when their drummer decides he's talented enough to do his own solo album. I know what you're thinking, he's no Dave Grohl, but you know what...Phil's in Radiohead. And that's not a bad gig. If you haven't heard the album, go get it now. You'll be happy you did.
Here is Thom Yorke - The Pencil:
1.
All For The Best
2.
Hearing Damage
3.
Feeling Pulled Apart By Horses
4.
The Hollow Earth
5.
Jetstream
6.
A Rat's Nest
7.
Iuvya
8.
The Drunkk Machine
9.
After The Goldrush
Buy Phil Selway's new solo album,
Familial
...now!